​
The April PWAS meeting will be held at the Tall Oaks Community Center in Lake Ridge on Monday, 26 April at 7:30. At the same time we will attempt to have the meeting via Zoom. Members should check their email for the Zoom link. If you did not get the email, contact Sandra Lewin at .
​
Date: 02.24.2020 (Monday)
The Prince William Art Society will meet February 24th at 7:30 PM
at the Tall Oaks Community Center, 12298 Cotton Mill Drive, Lake Ridge,
VA. Our guest speaker, Cindy Silas, Metal Clay and mixed media artist, will present her work (with photos) and cover a variety of mediums plus bring some of her latest work to show. Ms. Silas is an artist at the Workhouse where she also teaches, as well as teaching at Glenn Echo. Recently, she invented her own line of metal clay and will show us what metal clay is and how she works with it. Some of her work can be viewed on her site at the Workhouse( http://www.workhousearts.org/artists/artistdirectory/cindysilas/ )
as well as on her website: http://www.cindysilas.com/
​
NO Meeting in January
Date: 11.25.19 (Monday)
The Prince William Art Society will meet November 25 at 7:30 PM
at the Tall Oaks Community Center, 12298 Cotton Mill Drive, Lake Ridge,
VA. Following our business meeting there will be a break for refreshments followed by a program presented by Fine Artist Mike Flynn. Intrigued by the unique properties and techniques of watercolor, Mr. Flynn prefers to explore impressionism with loose brush work and the
freedom to capture his own subjective visual experience. He has exhibited throughout Northern Virginia, been juried into several exhibits and shows in KY, VA and MD, and his artwork is in private
collections across the United States. Mr. Flynn teaches watercolor and mixed media classes at the Center for the Arts - Candy Factory, Manassas, VA and he is also a member of p-ART-ners in Manassas, the
Clifton Art Guild, and The Loft Gallery where his work can be viewed:
https://www.loftgallery.org/our-artists/watercolor/mike-flynn/.
​
Date: 10.28.19 (Monday)
The Prince William Art Society will meet October 28th at 7:30 PM at 12298 Cotton Mill Drive, Lake Ridge, VA. Daniel Nie MFA will present "Creative Thinking, A Skill Everyone Needs" with a demonstration and opportunity for a hands on experience. Those who wish to participate are invited to bring sumi - e ink, a #5 round brush, and paper (newsprint is recommended). Meetings and programs are free and open to the public.
​
Date: 09.23.19 (Monday)
In September, rather than having a guest speaker, all members are invited to bring a piece of their art to share with the group. Members can discuss their art and answer questions. This will give us a chance to get to know one another better, recognize other members work, and learn from others triumphs and mistakes. You are under no obligation to participate. These Show & Tell programs are always fun so I hope you'll join us - and bring a guest!
​
​
​
The PWAS President's Comments:
PWAS membership is growing and we would love to have you join us. We meet the 4th Monday of the month at 7:30 at Tall Oaks Community Center, 12298 Cotton Mill Drive, Woodbridge, VA 22192. At our February meeting our members voted to start having meetings in July, and August. In the past we have not had meetings during those months. Come as a visitor and I think you'll find you will want to join.
Sandra McClelland Lewin
President, Prince William Art Society
Clearbrook Gallery, September 2020
February 2020, Guest Speaker Cindy Silas
November 25, Guest Speaker Mike Flynn
Arts Alive 2019, Sep. 15, 2019
June 24, 2019 Guest Speaker Tricia Deweese
Prince William Arts Council Seefeldt Awards, May 30, 2019
Jim Gallagher, past President and long-
time member of PWAS, was awarded
the prestigious Pioneer Award for Life-
time Contributions to the Arts. Jim's work to connect nature and art has made the arts available to new audiences. His mural at Merrimac Farm created a focal point where art and nature join to create a sense of place. And hand-painted rain barrels add a new dimension to the wildlife garden. Jim's support for local organizations has make a huge difference. Congratulations Jim!!!
May 27, 2019 PWAS Scholarship Awards
Avery Engstrom & Wilson Stearns
Art from our Scholarship winners
May 4, 2019 Spring Art Show & Sale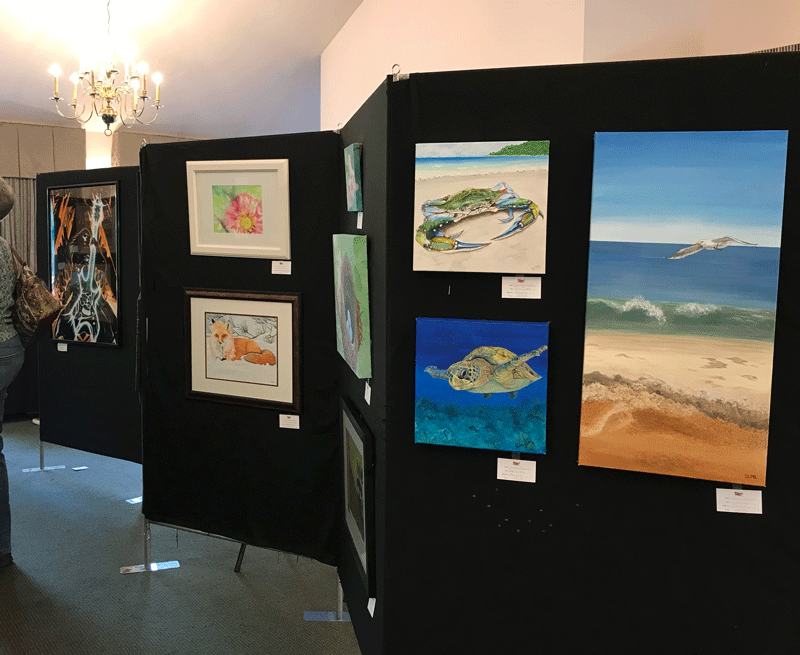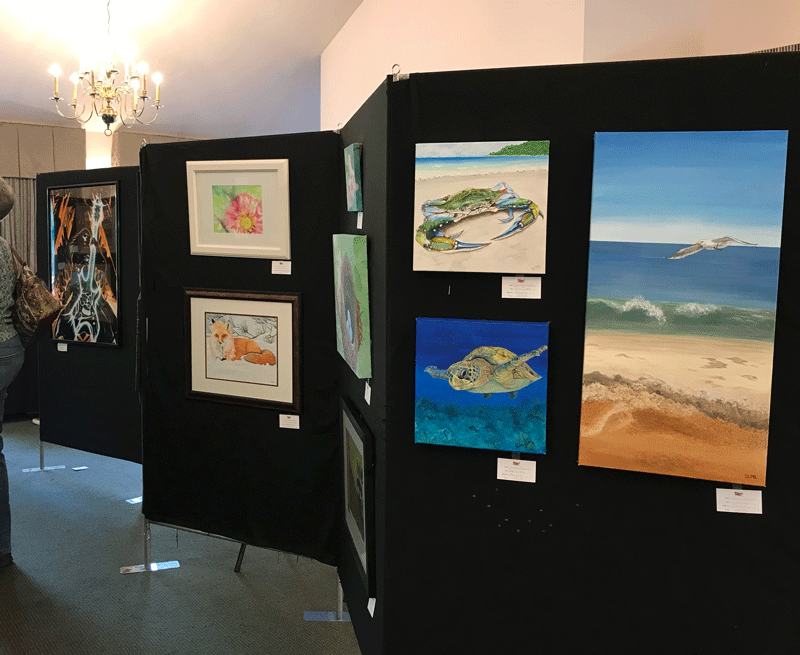 April 22, 2019 Guest Speaker Janice McMahon
Mar. 25, 2019 Guest Speaker Pastel Artist Teresa Brunson